Saporito é uma empresa do ramo alimentício especialista na diversidade do cardápio italiano. Pratos preparados com muito amor, agilidade, sem abrir mão do principal: o sabor. Saporito foi representada por design com formas simples criando um símbolo amigável, expressivo e dinâmico combinado com uma tipografia sem serifas e cores que adicionam uma atmosfera moderna, leve e acolhedora.
Saporito is a food company specialized in the diversity of the Italian menu. Dishes prepared with great love, agility, without giving up the main thing: flavor. Saporito was represented by design with simple forms creating a friendly, expressive and dynamic symbol combined with a serif-free typography and colors that add a modern, light and welcoming atmosphere.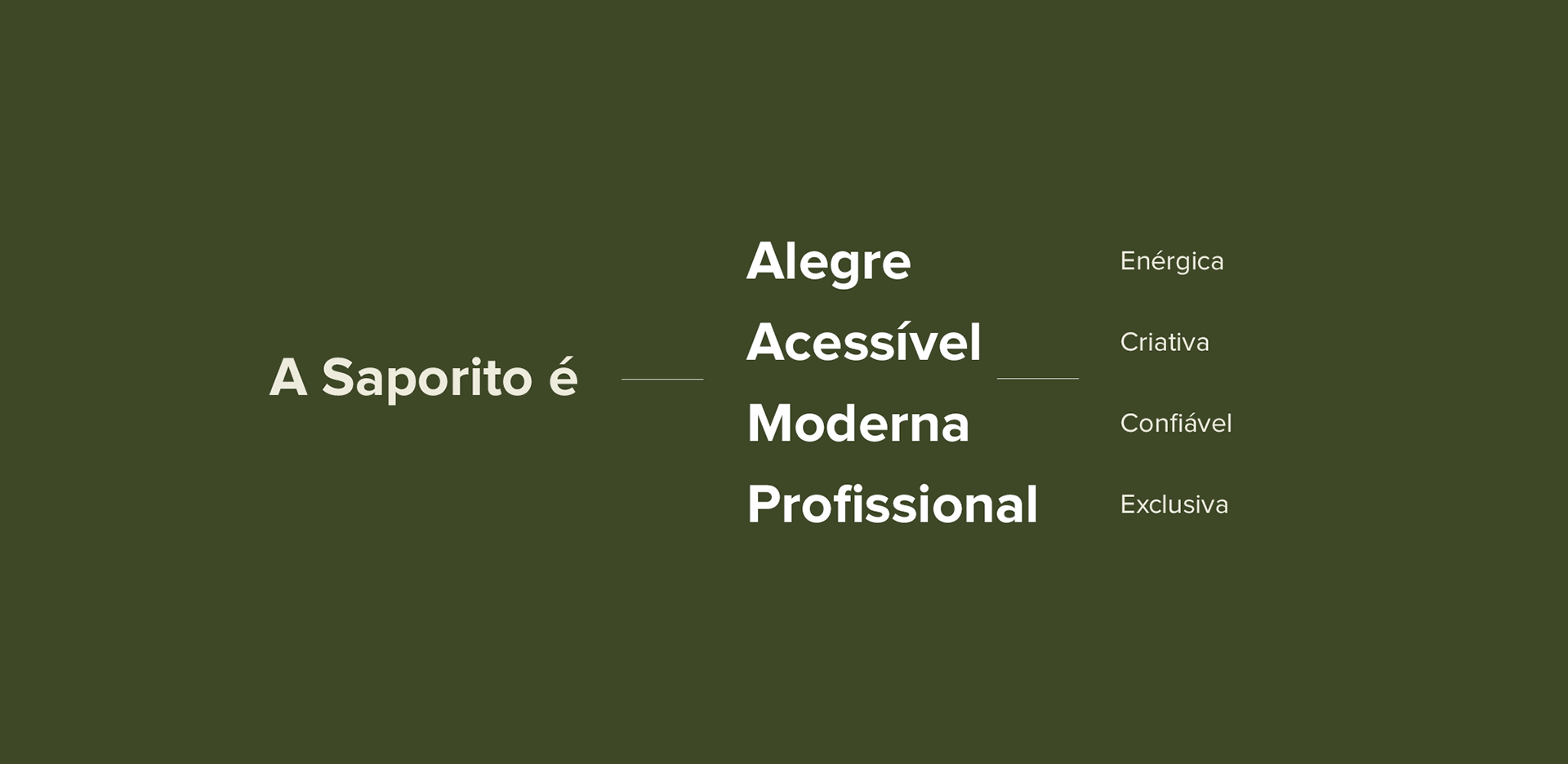 As cores escolhidas adicionam uma atmosfera moderna, leve e acolhedora que se conectam diretamente com o público alvo. O verde e vermelho por serem cores complementares formam uma combinação moderna, criativa e acessível. Já o bege carrega um clima de suavidade e neutralidade trazendo sobriedade para a marca.
The chosen colors add a modern, light and welcoming atmosphere that connect directly with the target audience. Green and red as complementary colors form a modern, creative and affordable combination. Beige, on the other hand, carries an atmosphere of softness and neutrality, bringing sobriety to the brand.

Uma boa receita italiana precisa de um misto de bons ingredientes, temperos e uma pitada de amor para dar o toque especial. São valores que possuem uma forte ligação com os objetivos da marca.​​​​​​​
O símbolo foi construído com duas letras "S" estilizadas, entrelaçadas, formando um coração. 
A good Italian recipe needs a mix of good ingredients, spices and a dash of love to add the special touch. These are values ​​that have a strong connection with the brand's objectives.
The symbol was constructed with two stylized "S" letters, intertwined, forming a heart.